Version: 1.1.1
U-Filter 1.1.0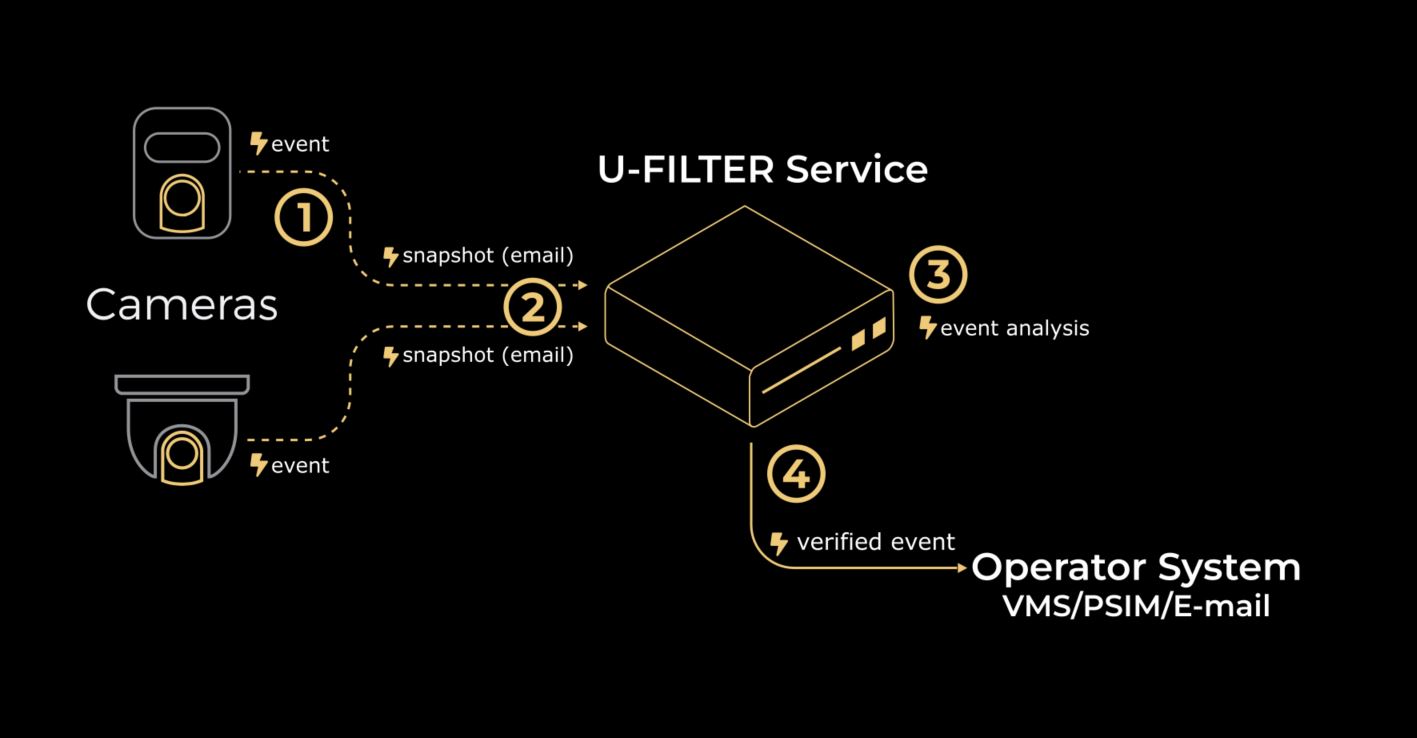 How does U-Filter work?​
U-Filter enhances your existing security system's capabilities. Triggered by events which are recognized by your camera, U-Filter can literally filter these events in order to drastically reduce false alarm rate turning primitive features to an infallible defence system.
U-Filter works as follows:
Events are triggered by your cameras on motion / intrusion.
The camera sends an email with a JPEG snapshot attachment to U-Filter.
U-Filter analyses the image and determines if the alarm is false or not.
If the incident was real U-Filter sends a notification to your Operator software.
Once an e-mail is received and gets filtered, analysis enters into a configurable cooldown period - during this time, analysis is paused, and no events get filtered. Analysis resumes once the cooldown period is over. Note that the maximum size of the image that can be sent via e-mail or HTTP input is 3840x3840 pixels.
Supported solutions​
Hardware requirements​
U-Filter can be installed on the NVIDIA Jetson NX (ADLINK DLAP-211-JNX) platform, or on PCs with NVIDIA GPUs - refer to the table below for minimum required specifications for each platform as well as the number of images per minute each configuration is able to handle.
CPU
Memory
GPU
Other
Images/min
Images/min (without encryption)*
AMD EPYC 7351P
64 GB
NVIDIA RTX A2000
500 GB SSD
NVIDIA certified motherboard
1 Gigabit network card
1550
2000
AMD EPYC 7351P
16 GB
NVIDIA T1000
500 GB SSD
NVIDIA certified motherboard
1 Gigabit network card
900**
900**
NVIDIA Jetson Xavier NX
8 GB
NVIDIA Jetson Xavier NX
1 Gigabit network card
135
235
* It is recommended to use encryption.
** Values are approximate.
Security & Privacy​
Before using U-Filter, please be aware of the following:
Incoming emails are bound to authentication.
Login for configuration uses authentication.
U-Filter can accept emails on an encrypted channel - it is recommended to use it. It is possible to receive emails in a non encrypted channel, but is not advised.
The disk on the server should be encrypted, as the database itself does not use encryption.
Messages are encrypted across the components middleware / API / Load balancer / backend.
U-Filter does not store camera images - they are kept only during the analysis process. The only images U-Filter may keep are the ones needed for ROI / Size filtering, and only if such options are enabled.
Legal​
Third party licence notes are available here.